WHAT IS FOOD!?!
Living Wholly!
Ask me about Whole Food Nutrition.  
Many of us are lacking and have a nutritional deficiency that we may not be aware of.
 To good health!  Spiritually and physically!
All the new testament writers observed the dietery guidlines set forth in the Torah.  Our loving Father in Heaven shares with us His children, those who He created, what is considered as food and is good for us to consume.
Let's begin with testimony!  I started my 9 year old son on Whole Food Nutrition
 I wanted him to have better reading and mathematical comprehension  Well- guess what! Within 1 month he began earning the highest grades!  And not only that- he scored the highest score on statewide testing!  HalleluYHWH!
Leslie Ann's TOWER GARDEN - Totally worth the investment for
~self-sustaining gardening~
that is 35% faster,
80% more phyto-nutrient dense,
65% greater yield and no pesticides
no gmo's, no genetic alterations
can be grown beautifully indoors!
no weeding, no dirt, uses lava rock to grow in, uses only 2% of the water normally used in gardening!  Absolutely an answer to prayer!  Easy enough for a 5 yr old!
www.l-m1.towergarden.com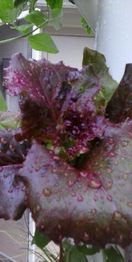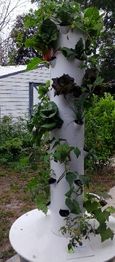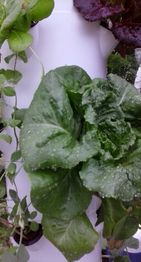 Our Creator wants us to eat well. 
Growing up my mom would buy the real butter and rye bread and yogurt and all the good healthy natural foods.  I used to go to friends' houses so I could eat cookies and sweets and food that was salted and seasoned.  Upon becoming a mom I realized why she bought foods that didn't necessarily seem the sweetest and why she didn't cook with salt and other seasonings.  She wanted us to be healthy which was more important than satisfying cravings.  I am so thankful she taught us this for it greatly helped me know how to choose healthy foods for my family.  Real butter is good for us.  The fat in it is good for us.  The fat in potato chips is what is not good for us.  When items are labeled as low fat they are often high in sodium which is bad for our hearts. 
It is better for food to taste bland than full of seasonings that lead to diseases.  I believe YHWH gave us natural fruits and vegetables in the colors of the rainbow from which we should have a balanced menu from regularly.  Interestingly fruits and vegetables have a look when cut that resembles the body part they are most beneficial for.  A walnut looks like a brain and is full of omega fatty acids which help the neurotransmitters in the brain convey messages.  A carrot sliced crosswise looks like an eye.  A fig looks like a uterus and inside looks like seeds and is healthy for female and male reproductive systems.  Herbs are the best way to season our foods and they are good for us and can be eaten straight from an organic garden.  Diatomaceous Earth Food Grade is best for keeping a garden organic and not using any dangerous pesticides.  
YHWH instructs us to not eat pork nor fish without scales.
Why?
They are the scavenger animals and eat the trash of the land and sea.  If we eat them it causes our digestive systems to have worms and can cause seizures. 
YHWH also says for us to not eat meat in the mother's milk.  Why? 
Study has shown that when milk and meat are consumed within two hours of each other the calcium is not able to be absorbed by our bodies.  Here in America we are privileged to eat meat often and drink milk often yet we are so calcium deprived and I believe the reason is that we have lived in disobedience to the commands of the very One who created our bodies and knows how they operate best.
All instructions from our loving Creator are found in the first five books of the Bible.  These first five books are called the TORAH.  Torah means instruction.  It is an arrow to point us in the right direction to hit the mark.  Missing the mark is called sin.  When we hide these books in our hearts we know the way to walk in which is called the Ancient Path or the Narrow Road.
These books are what we need to hide in our hearts.   It is the spiritual nutrients needed by our spirit beings to lead fruitful lives unto the Holy One.  In the TORAH we see all that is good for us to do, to wear, to eat and so on.  As for eating, we read in Genesis and in Daniel and other books that herb plants are good for us.  
In Leviticus we see specific animals that are good for us and we also learn about animals such as swine's flesh that are not good for us.  That which is not good for us is not to be considered food.  Certain animals are designed by our Awesome Creator with the special task of cleaning our environment.  
The animals that scavenge or eat the 'trash' of the land and sea are not fit for our bodies.  If we eat that which consumes trash, what does that make us full of?
The Bible sets forth proper living guidelines for us who are a royal priesthood, a peculiar people, a chosen generation, a people set apart unto holiness.  May we abide by these wonderful ways that set our bodies in good order.  Read Leviticus 11 and rightly divide His word of truth set forth for all mankind in this book which is smack dab in the middle of the TORAH.  
Let us stay away from that which scavenges.  You know, the scavengers of the land are pigs.  The scavengers of the sea are shellfish and fish without scales like sharks, octopus and catfish.  The scavengers of the air are ravens, eagles, hawks and crows.  These are called scavengers because they scavenge the waste in our environment to do their part in keeping our environment clean.  What do they scavenge? They scavenge that which is waste or dead.  We don't want to fill ourselves up with waste.  
  Adam and Eve looked at the fruit on the tree of Knowledge of Good and Evil and saw that the fruit was sweet.  Now let's think about some of the sweetest 'meats'- pork and shellfish.  They are sweet, however, they are bad for us.  These meats are filled with scavenged waste basically.
From the beginning, since creation, there are foods that are good and not good for us.  It is thus likewise today.   
We are the body of Yahshua, the temple of Elohim YHWH, let us keep our temple undefiled in this manner.  Let us eat what is good and holy and pure.
We read Paul's statement that all things are permissable.  But, do we continue on to see what he said?  So often from the Brit Hadasha, 'Re'newed Covenant we take partial sentences out of context from the whole of the statement.  When we read further we see that Paul actually goes on to say that not all things are beneficial.  
Our Father gives us fruits and vegetables in abundance of colors.  Each color helps us in some way.
In our day, we must be careful though to grow our food organically or rinse it thoroughly in vinegar and water because of the excessive use of pesticides.  The pesticides are very bad for us.
 It is good for us to grow our own food and use natural pesticides such as Diotomaceous Earth FOOD GRADE.
We should know how to farm the land to grow food.  This is very important.  My Great Grandpa McGarvey told my dad, "Whatever you do, own land."  He was a wealthy and wise man in this respect.  He had a rushing creek run through his land, fields of corn, oil wells and so on and was able to provide for many. 
My mom's twin sister has a huge farm in the rolling hills of Pennsylvania. My parents had huge gardens when we were young;  us children would go out to the strawberry patch and fill a bowl with strawberries that we were able to retrieve in the midst of the thorny patch then we would have a bowl of 'strawberry cereal'.  We were very healthy, rarely sick growing up.  In fact, my parents even now in their later years still enjoy much activity including amusement parks.  That is saying something! I would owe that somewhat to the way they eat, though primarily to the everlasting joy they daily exude from saved living.  I have surrounded my house with fruit trees and berry bushes and grape vines and organic gardening.  These ways are good for us to know and pass on to our children.
Leaf of Life has wonderful living properties; in fact, if a leaf falls to the ground it will grow a whole new plant!  I eat a small leaf or make a tea from the leaves.  
Royal jelly from bees is also good when eating just a smidgen less than a pea size with honey.
Honey & Cinnamon every now & then or as sweeteners on oatmeal = good food medicine.
Chlorella, Moringa, Caca, Spirulina, Cacao, Wheatgrass, camu-cmu and Acai are superfoods that help towards maintaining bodily wholeness.
Sprinkling wheatgerm on food such as salad is healthy for us to consume. When I eat salad I like to use an olive oil and vinegar mix.  The vinegar helps with the digestion of the green leaves.
May we fulfill all righteousness as did the One Who we look to as our example- Messiah Yahshua the only begotten and beloved Son of YHWH our gracious Heavenly Father!
All answers for living are in the same Scriptures that Messiah lived and taught from.
Lovingly, Leslie Ann
Along with the Healthy Living Tower Gardens, I have Juice Plus available. This is a wonderful nutritional charisma that you can add to your daily eating and there are shakes available. I have seen first hand testimony of the wonderful benefits of taking this. One of my students went from having difficulty with piano skills to becoming one of my top performing students within a couple of months. The increase in focus and skill was so elevated that I asked if they were receiving additional help from someone and they said no. The only difference was that they were eating foods from their tower garden and taking the Juice Plus whole food nutrition. They even have documented doctor's tests to show the significant improvement in their brain activity.  Leslie Ann