Wow! Wow! Wow!
HalleluYAH!
How many Blessings & Testimonies!
We had our first Mishpachah Chavurah, that is Hebrew for Family Fellowship, meeting here at the house in Deltona, Florida. I have been waiting for years to establish regular Shabbat gatherings in our home for our community!!
What a blessed service! We had 10 people here, a minyan =). Incredible! 6 adults and 4 children! What a triumphant entrance to announce the coming Jubilee year on this special Shabbath Shuva, Sabbath of Returning! HalleluYHWH!!
~*~
One of the honored guests brought a vase full of glorious Tiger Lillies! There were 14 buds and flowers in all!  Amazing because '14' is the number for 'Toldot- generation'! HalleluYAH! It is double seven!  Here we are 'branching off', new generation, from Gesher Shel Tiqwa. The inital goal of establishing Gesher two years ago was to branch off into smaller family home fellowships because of the possibility of travel being difficult in the days ahead. This way families can learn how to celebrate Shabbat in their homes as a family or community! So  branching off, a symbol of generations, the 14 Tiger Lillies coming in, and as everyone was arriving we looked up into the sky to behold a GRAND DOUBLE RAINBOW!!  One rainbow has 7 colors, so double that and you have the awesome number of generations again-14 colors!!  Come one now!! Absolutely incredible!  Another sign of Abba's promises!!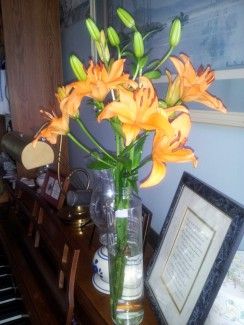 ~*~
While preparing for the assembling of believers, one occurrence after another was happening... halleluYAH! The Father is praised! What a blessed Shabbath!
We started with Mishpachah Hebrew Yeshiva, Family Hebrew Learning class, then we went into blessings and breaking of the challah and drinking of the fruit of the vine, grape juice. HalleluYAH! We went into praise, fellowship and into study of Torah. We ate beautiful and goodly food together.  While finishing up a time of delightful eating we enjoyed Havdalah, separation from Shabbat into the First week day.  We gathered around the light of a braided candle which represents us as Echad - One and then we smelled the sweet fragrant spices symbolic of the fragrance we are to Abba and the sweetness of the week to come! We enjoyed more praise music for those who wanted to stay and fellowship while I cleaned up.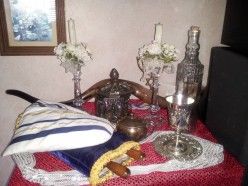 You know, Messiah Yahshua, He encouraged and taught 12 talmidim, disciples, they and their families. Each of them in turn went off in twos to disciple, teach others.  That is how He instructs us and that's what we are doing! HalleluYAH!
 In preparing this past week for Shabbat service here, it all came so suddenly!- The instructions from Ruach HaQodesh, the Holy Spirit, about Mishpachah Chavurah! What a blessing!  One event was that I happened upon a garage sale (I am trying to think the last one I went to and I don't remember because it has been a long time ago!).  I was looking for specific items for Shabbat service and, amazingly, everything I was looking for happened to be at the sale! And at incredible price! For instance, the last couple of years I have been searching for linen clothes. It is good to wear linen. Our body's organs respond to the linen. It is good. The Bible speaks of it and I've been searching for Linen.  Linen is expensive and it is hard to find in the stores. I went to this garage sale and there in my size clothing were beautiful linen skirts, blouses and pants one after the other for $1 a piece!!!  I was so incredibly blessed by Abba's graciousness towards me! Not only that, but there was one particular item that I was desiring for our congregation and I saw it there! I explained to the one holding the garage sale about why I wanted the item and she said it is my gift to your fellowship!!  THANK YOU ABBA!  Bless her Father and her household I pray!  Todah Rabah Abba!  
That is Thank You Abba!
We had one guest who it was her birthday and she got to wear a diamond Tiara and be a princess for the evening. What a beautiful celebration and honoring of her birthday! She is the one who was given the 14 Tiger Lillies! Number 14- Birthday- Generations-  get the point?!  The Heavenly Father is blessing her Generations!  HalleluYAH! She humbly walks! The beautiful orange tiger lilies remind me of my son Joshua who when he was 11 years old drew a picture of a beautiful Tiger Lily bending over.  He said, "Mom, this Tiger Lily represents you and the way you humbly bow before God."  What High praise coming from my eldest Son!  Reminds me of my hearts desire to be a Porverbs 31 woman-'and her children will rise and call her blessed'! And here,  14 years later (Again the number 14!) after my oldest son gave me his grand drawing of a single orange Tiger Lily with it's head bowed representing me- now comes in on our first Shabbat Mishpachah Chavurah 14 Tiger Lilies!  Oh Abba is so good!  He loves His children!
I could sense the mighty Lashon, tongue of Abba in the room.  By that I mean the fiery tongue shown by Ruach HaQodesh, the Holy Spirit.  His Holy Spirit... so heavy in the room... it was incredible... we all felt the anointing of His Ruach, His Presence with us! We had a blessed time of prayer!
~*~
The children worked on a word puzzle where they found words related to the High Holy Days that we are in. So exciting because we just celebrated Yom Teruah, Day of Trumpets!  At the gracious request of two Rabbis of two different conservative Jewish Synagogues, my son Daniel was honored to blow the Tekiah Shofar call with our Yeminite Shofar for both of their Rosh HaShana celebrations (Biblically it is Yom Teruah)!  May the Light of Messiah shine forth and may they see Him for who He is as the Living WORD of YHWH Elohenu, our God!  Now we plan to celebrate Yom Kippur, Day of Atonement here in a few days! It is the Holiest day fo the year, a day we fast.  We know the One who atoned for us- Messiah Yahshua, the only begotten beloved Son of the Father!  
The Holy Days of Abba are Holy Convocations.  That means they are dress rehearsals!  He wants us to understand the times and seasons wherein He accomplishes matters.
~*~
My 10 year old son Daniel is working on a Jonah play for Yom Kippur! He is writing a play based on the book of Jonah! Jonah was called by the Father to go to Nineveh the enemy of Israel, but Jonah didn't want to go into the people of his enemy.  He didn't want them to repent. He knew they would! But, halleluYAH, in the end he went and the Father forgave them when they repented. Well that is the season we are in - turning to one another, asking forgiveness of those around us, and turning to the Father's ways.  Return, repent and walk in His glorious ways in these days then we have no worries and only his joy among us!  Right now we are literally in Yamim Nora'im- Days of AWE!
~*~
A beautiful praise and worship leader joined us. Her name is Lisa. What beautiful guitar playing! Now get this- Abba is so good! When I was a little girl around 10 years old I sang a solo in a children's choir that I toured with. My solo was called 'Jesus, Name Above All Names'.  Singing that song for Messiah meant so much to me and always has!  It talks about His titles, like Redeemer, Living Word, Beautiful Savior, Glorious Lord and Emmanuel.  These wonderful titles ascribed to the Messiah in the English we speak.  Guess what song Lisa 'happened' to play for us?! Yes, she played that very same song that I as a little girl went and sang with all my heart to all the people! How the Father graciously blessed me, His handmaiden, this day. He spoke so beautiful to His beloved. Each of us is His beloved!
~*~
I was given by a beautiful ministry called Remnant Remedy a gift of exquisite essential oil called beloved. Everyone who attended Shabbat Shuva received a touch of the oil called beloved today!
I could go on and on about more blessings that happened.  But I think I've shared enough for you to understand the uncompromised blessings that accompany walking in obedience to the Father's ways.  I pray that you are blessed and encouraged and that you choose to walk in obedience unto the Father's ways that He modeled from the very first week of Creation. 
I bless you from the highest!
Received this from a woman who attended with her two daughters the first Shabbat gathering of Mishpachah Chavurah:
"Interestingly, as I was driving to work after the service, I begin to worship God and the words I uttered were, "God, I 'm intrigued by you....I stand in awe of you!" ...  I've always been intrigued and awed by His love and His power...but after the service, it's on a level that I've never known before...(God is so good...so great!!!)"
*
GLORY! HALLELUYHWH!
Anther woman who attended said along these lines:
"wow...to see the foundations of our faith..to know where the blessings come from and why we do what we do in church"
And yet another said, "I think the greatest thing is to Praise the Giver of Life."
BLESSED BE HIS NAME FOREVER! 
Love, Leslie Ann
 SongsOfLeslieAnn.com