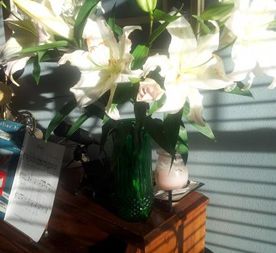 The CDs!!
These songs reflect the significant appointed times/Moedim that our Heavenly Father gives us to celebrate our
 Halakhah Hatov/ Good Walk!!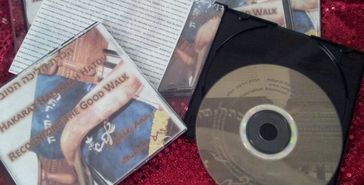 The Hebrew pronunciations  used on this CD are  from the ancient Biblical perspective to bring out
  the purest form
that we have knowledge of today for
LaShon HaQodesh- The Holy Language. 
Right from the beginning of the Biblical year we see in Pesach/ Passover
what YahShua did for us as YHWH's
Paschal Lamb in the song :
By My Stripes You Are Healed 4.52. Another Pesach song...
~
 EliMelek 5.21, was inspired from my Grandfather's name Mailach who fled from the persecutions leading up to the Holocaust;  this song shares how the
Holy Letters of Avinu's/ OurFather's very name
portray His message of saving grace through His Son
 YahShua HaMashiach! 
~
Fill Us YHWH 5.03 asks the Father to fill us with 
His Holy Spirit/Ruach HaQodesh
&
is for Shavuoth/Pentecost wherein we remember both the
Giving of His Torah & His Ruach HaQodesh. 
~
Blow The Shofar 8.56 sings Daniels prayer in ch 9 for Yom Teruah/Trumpets & Yom Kippur/Day of Atonement
-the day The Book of Life
will be opened & we want to hear our name read from it. This song calls for Teshuva/Repentance.
~
When We Enter Into The Tabernacle 9.42 is for Sukkot/Tabernacles & ecribes the Tabernacle. 
He wants to Dwell with us!  Tabernacle with us!
The Temple is His design for our lives!
 Each part is symbolic of His Grand Design for us!!
~
It Is Shabbat 2.51 is about Abba's weekly
Sabbath Moedim of rest!!
When he was only seven years old, my son Daniel BradLee,
wrote the chorus and melody for this song. 
~
The rest of the songs describe our
Halakhah/Walk before YHWH in His Son YahShua. 
~
For He Is The Living Elohim 5.04 is from Daniel 6 & boldy proclaims that The Kingdom of Elohim/God
is OLAM/Forever!!
~
  Armor of Elohim 6.15 is about being fully equipped in the Spiritual attire He makes available to us through His Word & His Holy Spirit!  From Deuteronomy 32 & Ephesians 6
~
Love Song To YHWH 7.25 is My Tribute
to Avinu Shebashamayim/ Our Heavenly Father. 
~
Avodah 5.27 is about our daily work/Halakhah
being a Worshipful Servitude
directed to our heavenly Father from Kawana/Motivation
from hearts that follow the compassion that
YahShua HaMashiach/Jesus the Messiah
showed while on earth. 
~
Love Fulfilled 5.24 shares our daily need to fulfill love 
by Obeying our Heavenly Father's Instruction
as His Son YahShua did. 
~
He Makes Us B'lev Echad 5.34 shares about our Father's love joining us To Him & to one another.
~
As a bonus is a cool hip version of...
~
Love Song To YHWH 6.15, 
May we all recognize The Good Path! & Walk in
THE ANCIENT WAY that we may worship Him
in SPIRIT & in TRUTH! 
I give thanks to our Heavenly Father for He answers prayers- He gives me melodious chords to play & sing for Him. 
I was taught to read music, but, as hard as I tried, I could not play by ear.  Even in college when the professor asked if he was playing a melodic M3rd, I thought, "Please don't call on me- I can't even hear if the pitch went up or down let alone what the interval is." 
But since then, Abba/Father has been blessing my ears & has allowed me to write, play & sing songs  for Him fulfilling visions & dreams since a child one being a heavenly vision I had as a little girl wherein I was playing a golden piano with angels all around.  HalleluYAH!! 
I give thanks to my children who patiently endured listening to me work on the songs day after day, night after night at home, on the road, wherever we were! 
Thanks also to my parents for their love & support, for believing in the ministry of music that the Father laid on my heart since a baby of nine months old batting my hands on the piano keys at Grandma's house, for honoring my request  to learn to play piano at the tender age of seven years old as I felt the ever present and growing desire to honor the Most High through music! 
 78:16 length.
Insert designs by Leslie Ann
 הכרת הליכה הטוב  
Hakarat Halakhah Hatov 
Recognizing The Good Walk
2013  All Rights Reserved..
Copyrighted & Registered  by Leslie Ann
$20 Each
Todah!  W'Barukh!  
Thank You! And Blessings!!
Leslie Ann