Please Pray for
Spiritual Warrior
and
Defender of the Faith
JOSHUA ISAAC
**
Thoughts and Writings by the Firstfruit of my Womb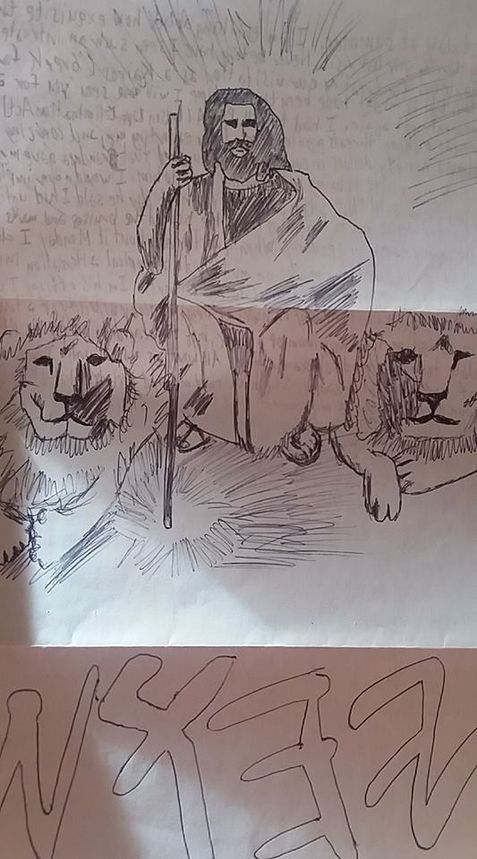 And Drawings Also by Joshua Isaac
**
12.10.13  "Faith, Hope, Love  -  In that order for reason.  Peter started with Faith, then went through the stages of Hope (Virtue, Knowledge, Temperance, Brotherly Kindness) and ended in Love.  Jesus  is the first and the last, so make no mistake, G-d is that love."   
"You see, a seed can be anywhere and everywere, but until it decides to die, it will never experience the hope of resurrection.  Just as it expends its resources to grow down and outward, up and outward, so is the knowledge of G-d.   That plant will never see its fruit, or taste of it, and yet, it may father thousands of other seeds just by its continual hope that by reaching for the Sun so high and waters in depths so deep, it may one day accomplish according to its purpose."
"I am being spiritually regenerated as I am cleansed from my sin and renewed by His mercy each morning, so He can reflect His glory, just as a diamond is best displayed on dark velvet."
3.26.14  My oldest son who is 23 years old wrote to me last week: "I Love you Mom.. the fruit of your womb is guaranteed fruit for the kingdom, another arrow to pierce the enemy... you put burdens upon yourself to show God that you can take it. And He, in His faithfulness, sends one down just like that. I have never been so excited. All the other kids were something to take away from my childish ways, But, now I can see the light and I partly understand that I am blessed the more brothers and sisters I have. ..You should know that the ordinances of heaven themselves could not and cannot be silent about this wonderful matter. Why does my soul shout when I think of the wonder? Could heaven be open so soon? Little joys of treasure to mothers, birthing, rejoicing the moon. When five fingers grasp, for the very first time, While planets over head but circle in time, not the sun brightly shining, but God's only One! And let His eyes behold, the mother's treasure, fairer than gold. I love you mom, Your Son."  -What higher praise can a mother to receive but these words from her oldest son?!  I am blessed indeed!  And in the midst of spiritual warfare because the enemy hates when YHWH's children are about His true business- it is then that our Father's presence is our defense!  Amen! On Rosh Chodesh- New Moon I Divinely  received this blessed letter from my firstborn son who opened the womb !
7.24.15 Recieved: The books, they free my mind, my mother, she frees my heart, the Torah frees my soul, the L-RD brings salvation in his body to all three.  The Holy Spirit fire will baptize me again...because He is a Fire Consumador!  And this land is blazing, though, at the moment prepares while asleep...green and lively, but not ready to be burnt again yet.  It is blazing when I look to the future either way... dead or alive.  Let us pray it will die soon, so it can be renewed again.
Soul Seeker!  Heart Winner!  Freedom Fighter... hear the voices high and low.  He creates evil and lets it grow...so knowledge may abound...so we may learn and be studious.  Leave the simplicity of repetition and lift up hands from your soul, not your might...put the demons to rest by yielding to the One True Light...his name.  "Oh that my ways were directed to keep your precepts!"  Let us be diligent with everything, not only physical ability, but strength of heart and soul...khol (all in hebrew).  Surrender to His Glory.
Sincerely, Josh
 1.27.16  My Son Joshua Isaac's Words upon hearing of his Grandpa's passing:
My last memories with him are when we were sitting at the kitchen table in April 2013 after Abuelo died.  They had both been the same age then.  Before that, he attended my graduation from Boot Camp at Fort Benning.  My earliest memories of him go from playing catch with him in the front yard all the way to asking him for quarters to play pool.  He was very special to me and I remember you saying he was good to you.  It was with his assurance that I memorized and first recited the L-RD's Prayer and the Shema in Hebrew.  With confidence I can believe his theory that shadows do have weight and I pray that his shadow over our lives will not be forgotten.
For someone who found contentment watching numbers change position relative to one another in a fixed circuit, I believe that he lived a full life, loved by grand-children who were not of blood-relation but his none-the-less.
I pray that the fruit of his doings those that were in any wise good, be attributed to his professed faith that the Bible is a good book.  Certainly, the eulogy from one Lordstown retiree about another was an answer to divine supplications on part of the few that chose to honor the eternal treasure that G-d might hold for the man.
I was Fourteen when he explained to me the working of a beam of light bending if shown around a filament run through a vacuum.  I thought at the time, little does this old man know that he is describing the modern-day workings of fiber-optics, the means by which data is transferred at incredible lengths, speeds, and amounts trans-continentally, thus allowing a multi-national [international] network (the internet as of August 6th 1992, the same as Isaac's birthday).  However, after such technology was incorporated he himself obtained a television fit to fiber-optic enabled high equality sound enhancement.  I asked him, "Grandpa, remember when you told me about those Christmas lights that you made? well, did you know that they are in your T.V.?"  He said "Yes," going on to explain how General Motors did not see a ure for the technology, though he had incorporated it into one of his design models never to go to production, and the patent was picked up by another man.
My Grandpa was a very humble man, completing a tour in the Army Engineer Corps as a lieutenant after graduating from Georgia Tech and succeeding in marrying a beautiful woman, my Grandmother.  Though relations with his biological son seemed to stay at a stand-still from my point-of-view, I was surprised to learn after his son struck oil that he paid my Grandpa's mortgage.  However, his two step-sons, my Dad and Uncle, honed a love for the man greater than that for their own father.
He only ever gave me one piece of advice, "Joshua, If you make a mistake, make it big."  As much as I can I have tried to hold this legacy of integrity, taking pride in my failures as well as my accomplishments. When the time comes when my career is beginning, his philosophy will always be my van-guard.  I consider myself a child now, but a man then.
~*~
I LOVEST THOU MOTHER! 
By Joshua Isaac Martinez
© May 2017
I bless thou mother. Thou art so good to me.
When once meets pen and paper, I always think of thee. 
Grand are the strokes that I read from your hand:
Your thoughts turned into words ... my attention dost thou command.
This day, among many, the L-RD has spoken:
"Honor thy mother, for this is thy token,"
"From here on out to a thousand generations."
This day, among many, is a special occasion.
To the L-RD I speak now, see how I honor my mother,
Let me know one day why she is given to my siblings and I, and not another.
Bless her I pray, May Thou also honor this day,
And give her the vitality to get through this season and down her head lay.
I lovest thou mother.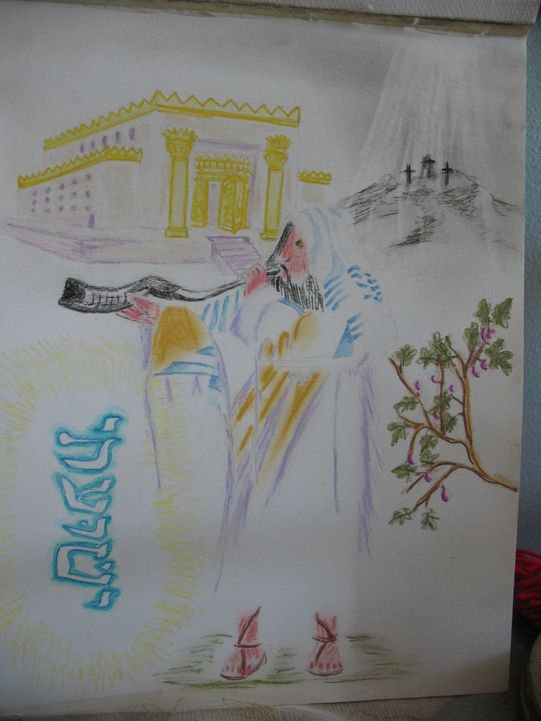 I LOVE YOU SON!