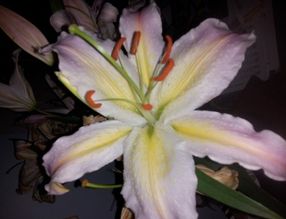 Stop excusing ways that plainly do not honor Him.  He gave us the ways to worship Him.  Come out and do so He can grow us! 
The BRIDGE OF HOLINESS! 
He will make our healing as the noonday!  He establishes Shabbat among us, but He is waiting for us to make this step so He can grow us!  
Stand- Keep standing as pillars of righteous living, having done all keep standing! –as we are admonished in Ephesians 6. 
Stand in righteousness knowing he is a faithful rewarder of those who do so. 
To stand- part of the acronym for the name of God-
W'Amud HahChachmot-
And PILLAR OF ALL WISDOM. 
Pillar- Stand. 
Stand at the hearing of the word. 
From whence cometh my help my help cometh from the hills- the WORD given on the hills! 
HOLINESS
At the time of the writing of this I hadn't been sleeping well for over a month.  I was sleeping maybe an hour or an hour and a half and then sleepless till nearly 4am.
I come today with having had a very heavy heart recently.  I come before you being taken through repentance.
Firstly, let me go back to the time of Pesach.  While I was preparing for Pesach, Passover, I was removing leaven or chametz- bread from the house.  I bake the challahs and like to have plenty of jars of yeast on hand.  I had four or five jars.  I thought well I won't worry about those, I will just make sure they are closed tightly and will regard it okay to keep them.  I prepared a bag full of croutons, crackers bread, ramen noodles and such that had yeast or leavening in them and gave them to a family to have during unleavened bread.  I didn't want to waste the food and figured someone should enjoy it.  A few weeks following Pesach I suddenly felt convicted about not having thrown out all the yeast.  I tried to rationalize that it cost $6 a jar.  I continued to feel this sudden rise of conviction over the course of two days.  I repented and said to Abba that I am sorry.  Then I received news that Pesach Sheni was the next day!  In the Bible Pesach Sheni is for those who missed celebrating the first Passover properly and were given a second opportunity.  I thought wow, how amazing –Ruach HaQodesh is giving me a second opportunity to make this right.
However,  I started rationalizing again- the way I did the first time.  Thinking, oh He'll understand that I wasn't prepared this year and I plan to prepare better next year.  I don't want to waste that good yeast.  So, I ruled to not worry about it.  'He'll understand!' was my reasoning.  Even though I decided to save the yeast, yet I asked Abba to minister to my heart about it because I sincerely want to worship Him in spirit and in Truth.  I wanted Him to let me know if I was deciding wrongly or if my choice was okay. 
He sees we eagerly, desperately want to guard His ways.  At night I went to bed as usual, but then awoke again after only an hour and a half.  I laid there thinking.  Then the conviction came upon me heavily again about the yeast.  At that point I realized something.  He opened my eyes.  The answer to the questions many of us have been asking was now plainly seen.   He reminded me point blank of when King Saul did not follow completely the command to annihilate all the enemy and livestock.  King Saul thought instead that he would honor Abba by saving the best for HIM.  But the Father saw King Saul's heart was not devoted fully and solely to HIS commands therefore HE took the kingdom from him.  My heart sank and I reminded Abba that Y'shua said to forgive 7 times 70 and to please forgive me for I am under His robe of righteousness.
ABBA WANTS HOLINESS WITHOUT WHICH
NO MAN WILL SEE HIM!!!!!!!! 
  HOLINESS was and is and will be the answer. 
HOLINESS (Set-Apartness)
UNTO RIGHTEOUS LIVING!
Over the years I would just take the leavening foods and store them out in the RV since it was not "living quarters".  I justified removing the leaven that way.  Well, a few months ago I went out to the RV and discovered something horrible.  The roof vent over the refrigerator went missing and water came in and destroyed our groceries.  I had to throw so much away.  Then here recently, my home became overwhelmed with issues leading to devastating mold and again much had to be thrown away.  Here now, most recently, who knows how, but that fleas suddenly infested my house.  We were beginning to get covered in bites-especially the baby.  I tried natural ways to get rid of the fleas to no avail.  So, I had to fumigate the house.  I did this hesitantly because the baby crawls everywhere putting everything in his mouth.  So I meditated upon the fumigation process and thought about the gas chambers where so many people were fumigated to death. How horrible!  These were my thoughts.  Well, the next morning I let off the fumigators.  When I came home,  I had to throw away so much food that had been exposed to the fumes.  I was so tired earlier that I had not thought to remove it.  Well, now here I go again –for the third time-I had to throw away several trash bags full of food. 
As I started thinking about the yeast  this is was what HE showed me- I chose to justify not keeping His Word fully.  He plainly, very clearly states to remove all the leaven from your house in preparation for Unleavened Bread.  No ifs ands or buts about it.  Here to save a few jars of yeast, I missed the mark; my understanding was void.  Not only did I just not throw away the yeast, but instead of throwing out the chametz I gave it to another family to eat! I did not do true.  So now I had to throw away hundreds more dollars of groceries.  So, with my eyes now opened, I asked Abba to forgive me.  I asked Him to continue to show me what I needed to do to be holy, set apart unto Him.
He desires repentance to GOOD WORKS.
After realizing that by not throwing away the jars of yeast I ended up on 3 recent occasions having to throw out lots of groceries I by now easily threw away the yeast.  Reaping further consequences for disobedience was not worth it to me.
So as I looked for my jars of yeast, I started realizing that throughout my cupboards  I had several products- cake mixes, cookie mixes, baking powder, baking soda, stuffing mixes, etc that contained leaven.  So, though Passover 1 and 2 were passed I felt impressed to honor Abba to show I am sorry.  I cleaned out my cabinets.  I probably threw away half of what was left nearly.  Such a burden lifted off from me.  After having taken several garbage bags full to the trash can outside I heard, "Turn around and look up and enjoy the sky."  So I did.  Wow!  HalleluYHWH! 
You have been seeking holiness.  Know He accepts you as you are, but you have been feeling that there is something not right and this is it.  Being totally set apart unto YHWH! ALL! 
Holy UNTO YHWH! 
The Torah portions have been on Holiness and how the Priest wore a crown with the words HOLY UNTO YHWH.  We as a Royal Priesthood need to bear this crown also.  No excuses and we can't bear it if we are halfway about His business.
This is what you have been after- humility!  You put it out there to take it all away- you only want what He wants.  Here it is!  He desires holiness.  Before He can take us further to build, He needs holiness in us.  Holiness with humility.  No more excuses to worship Him coupled with that which is wrong.  Nothing matters unless we are true before Him.  No more wishi-washiness.  No more divided heart!  We are told to COME OUT OF HER and be clean.
So, with this I strongly admonish us, what fellowship hath light with darkness.  Let us be holy.
I made a decision and I took drastic efforts because this is what Abba showed me. He allowed me and He is allowing each of us to COME TO THE END OF OURSELVES SO THAT WE WILL HEAR WHAT HE IS SAYING AND NOT ONLY HEAR, BUT LISTEN!  Meaning do! SHEMA Y'SRAEL! The time is at hand.  He showed me that by searching every spring through our cubboards and house that it is amazing how HE designed this- to help us keep clean and fresh in the house and remove the old!  Amen! 
Stop excusing ways that plainly do not honor Him.  He gave us the ways to worship Him.  Come out and do so He can grow us!
The BRIDGE OF HOLINESS!
He will make our healing as the noonday!  He establishes Shabbath among us, but He is waiting for us to make this step so He can grow us!
I began taking the leaven out physically the very night HE opened my eyes.  Abba didn't wait for me to get rested to SHEMA HIS WORD.  Instead, I didn't sleep at all, but rather kept at it until morning then kept a very full day with regular schedule.  The following night I went to bed thinking that I would probably wake up some time during the night as I had been for a month, so I'd do the editing for the Shabbat Word during the night.  Next thing I knew an alarm was going off and I am thinking if it is for school.  It took me about 20 seconds to figure out why the alarm was going off.  Oh my, it was 6am and the alarm was going off to host Shabbat  Morning Prayers on Messianic Lamb Radio.  Wow!  I slept through the night for the first time in how long?! HalleluYHWH!  I slept so heavy I was still in a heavy sleep!  I didn't wake up as I had been waking up through the night. 
Oh, the sweet blessing of obedience, of holiness!  He gives His Beloved rest!