HEBREW ALEPHBET
Zephaniyah 3:8 includes every letter of the Hebrew Alephbet including the five final forms. With this understanding the verse speaks of YHWH's desire to turn the peoples to a pure language!
Below the first time each of them appears is in bold.
ח  לָכֵן חַכּוּ-לִי נְאֻם-יְהוָה, לְיוֹם קוּמִי לְעַד:  כִּי מִשְׁפָּטִי לֶאֱסֹף גּוֹיִם לְקָבְצִי מַמְלָכוֹת, לִשְׁפֹּךְ עֲלֵיהֶם זַעְמִי כֹּל חֲרוֹן אַפִּי--כִּי בְּאֵשׁ קִנְאָתִי, תֵּאָכֵל כָּל-הָאָרֶץ.
Therefore wait ye for Me, saith YHWH, until the day that I rise up to the prey; for My determination is to gather the nations, that I may assemble the kingdoms, to pour upon them Mine indignation, even all My fierce anger; for all the earth shall be devoured with the fire of My jealousy.
ט  כִּי-אָז אֶהְפֹּךְ אֶל-עַמִּים, שָׂפָה בְרוּרָה, לִקְרֹא כֻלָּם בְּשֵׁם יְהוָה, לְעָבְדוֹ שְׁכֶם אֶחָד.
For then will I turn to the peoples a pure language, that they may all call upon the name of YHWH, to serve Him with one consent.
**
(Sephardic pronounciation)
The basic Vowel Sounds:  
e, ei, ey    sounds like long a as in 'main'
a  sounds like short u as in  'buzz' or as the short a  as in  'also'
u  sounds like oo  as in 'moon'
i  sounds like long e as in 'bee'
o sounds like long o  as in 'boat'
ai sounds like long i as in 'aisle'
Hebrew Consonants     Early Picture                       Meanings:
Alef                           Ox Head                          Strength, Leader
Bet                             House                              Home                      
Gimmel                      Foot                                 Walk        
Dalet                          Door                                Entrance, Gate
Hey                           Man with upraised arms    Behold, Breath
Waw                         Nail, Tent Peg                   Messiah, Secure
Zayin                        Weapon                            Nourish, Cut
Chet                           Fence, Tent Wall               Outside, Divide
Tet                             Basket                              Surround, Mud
Yod                            Closed Hand                     Work, Worship
Kaf                             Palm of Hand                   Allow, Open
Lamed                        Shepherd Staff              Teach, Lead, WatchTower
Mem                          Water                            Chaos,Mighty,Blood
Nun                           Seed                              Life, Heir
Samech                       Thorn                             Grab, Hate,Protect
Ayin                           Eye                                See, Know
Pey                             Mouth                             Blow,Scatter
Zsade                        Trail                                Journey
Qof                           Sun on Horizon                Circle,Time
Resh                          Head of Man                    Above, First
Shin                          Teeth                               Sharp, Eat, Two
Taw                          Two crossed sticks             Sign, Mark, Covenant
These are some of the meanings of the letters.  When the letters form words they in turn form word pictures.  
When the Aleph joins the Beyt, you have Aleph Beyt which is Hebrew AB for Father.  Looking at the meanings and combining the Aleph (Strength) to the Beyt (Home) you end up with the word picture of what a father is.  
AB (Father) = the Strength/Leader of the Home.  
Notice that the very first two letters of the Hebrew AlephBet form Father.  We know that our heavenly Father is first!
Our Heavenly Father wants to be the Strength and Leader of our Homes! AMEN!!
Hebrew is a divine language.  The words are significant and not by accident.  It is Lashon Haqodesh- THE HOLY LANGUAGE.
I would encourage you to learn more by going to the following sites from which teaching and study is being made generously available to us so that we may continue learning.
A good chart: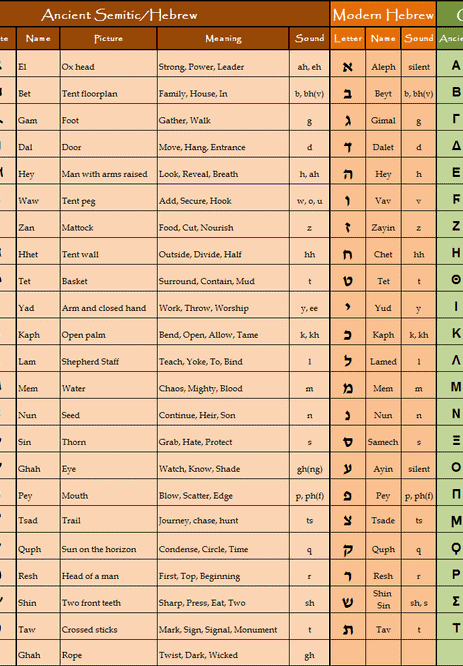 ancient-hebrew.org
hebrew4christians.com 
THE HEBREW ALEFBET PICTURE MESSAGE STORY                              
   As TOLD BY PASTOR MARK BILTZ with EL SHADDAI MINISTRIES
"(Alef) The Beginning and Source of Creation (Bet) Built a House (Gimel) For our Benefit (Dalet)He opened the Door  (Hey) and revealed/made the Way into His Kingdom (Waw)By attaching ourselves to His Torah (Zayin) No Weapon formed against us shall prosper (Chet) For He is our hedge/fence of protection (Tet) Surrounding us with His Presence (Yod) His Hands have made us (Kaf) He engraved us on the palm of His hands  (Lamed) By keeping His Covenants and teachings we have authority to rule (Mem) Over all the sea and the sea of nations (Nun) And Over all life therein (Samech) When He is lifted up for all who pierced Him  (Ayin)  to see  (Pey) Every mouth will be stopped (Tzade) As He draws humanity to Himself (Qof) From the least   (Resh) to the greatest   (Shin) For as a consuming fire He will destroy the wicked (Tav) And Deliver those marked with His Sign."
~Leslie Ann
Songs Of Leslie Ann, Inc.