Sukkoth
Tabernacles
Keep my commandments and live, and my teaching as the apple of your eye..the commandments of YHWH..are sweeter than honey ..a lamp to my feet and a light to my path.
Tehillim 19:8-10;119:105; Mishley 7;2
And these words which I am commanding you today shall be on your heart and you shall teach them diligently to your children…our children too shall serve Him for they shall hear from us about the wonders of YHWH, generations yet unborn shall hear of all the miracles He did for us. Tehillim 22:30,31
Z'mam Simchateynu!
 Season of our Joy!
We know His provision and also His Written and Living Word!
SUKKOTH
FEAST OF TABERNACLES 
 CHAG HA-ASIF
 FESTIVAL OF INGATHERING
**
"Then YHWH spoke to Moses, saying, 'Speak to the children of Israel, saying: 'The fifteenth day of this seventh month shall be Sukkoth, the Feast of Tabernacles for seven days to YHWH.  And you shall take for yourselves on the first day the fruit of beautiful trees, branches of palm trees, the boughs of leafy trees, and willows of the brook; and you shall rejoice before YHWH your Elohim for seven days. You shall dwell in booths for seven days. On the first day shall be a Sabbath and on the eighth day shall be a Sabbath. It shall be a statute forever in your generations."  Vayiqra, Leviticus 23
**
Sukkoth is the joyous eight day celebration to meet with YHWH.
This is the season wherein we rejoice with YHWH. 
We are encouraged to celebrate this day as though we ourselves took part in the wilderness journey.  We are pilgrims here.  We are learning here while on earth that which is to prepare us for serving Him in the Blessed Hope.
Let us draw nigh to Him and learn His ways.
Daily  readings Vayiqra 22,23; Bemidbar 29; Devarim 14-16;Tehillim 27, 113-118, 119, Isaiah 12:1-3; John 4:14
And it shall come to pass that everyone who is left of all the nations that came against Jerusalem shall go up from year to year to worship the King, the Lord of hosts, and to keep the Feast of Tabernacles. Now the Feast of Sukkoth in Y'hudah was at hand…On the last day, that great day of the feast, Yahshua stood and cried out, saying, 'If anyone thirsts, let him come to Me and drink. He who believes in Me, as the Scripture has said, out of his heart will flow rivers of living water.' Zechariah 14:16, John 7:2, 37-38 YHWH commands that the first and eighth days are no melakhah, work. The eighth day has two names: Shemini Atzeret, abide an extra day, and Simkha Torah, Rejoicing in the Torah. YHWH further gives us three commands for Sukkoth: to gather Arba'at Haminim, the four species; rejoice before Him; & live in a Sukkah for 7 days. 
*
NA ANUIM, WAVING OF THE FOUR SPIECIES 
ARBA'AT HAMINIM, THE FOUR SPECIES
A bough from a hadas, myrtle tree,  and an aravah, willow tree, are bound together with a lulav, closed date palm frond, along with the etrog, a fragrant lemon-like citrus fruit. These make up the four species used during  Sukkot and represent beauty, strength, endurance & flexibility  bound together.    The etrog symbolizes the heart wherein is wisdom and understanding; furthermore, it is an acronym for faith, repentance, healing and redemption.  Lulav is made from two words: to him and heart so it symbolizes spiritual backbone, conviction and strength that comes from loving Him with all our heart b,khol l'vavcha. Hadas leaves have the shape of eyes and therefore symbolize vision.  The Aravah symbolize the lips and represent victory over our enemies as they are beaten on the Hoshana Rabbah, Last Great Day of Sukkoth, the Great Day of Salvation. After the blessing, these are bound, waved together each day of Sukkoth proclaiming the Father's name and omnipresence. With the Lulav bundle in the right hand and the Etrog in the left hand hold together out then draw in and shake three times in six directions: forward, right, back, left, up, and down.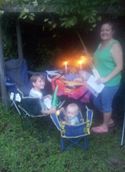 ~Leslie Ann
Songs Of Leslie Ann