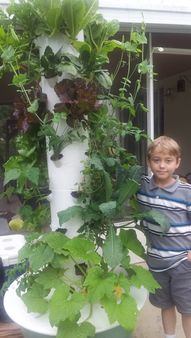 GARDENING!!
Some of my fondest memories both as a little girl and even now are times spent GARDENING!  Oh, the fresh, succulent tastes emanating from every edible plant!  It satisfying to grow food, eat it, & know that it is healthy fresh!
Last Spring I began Vertical Gardening!  Yes, VERTICAL- TOWER - GARDENING!  I have enjoyed it greatly!  I had prayed for an easily maintainable way to garden due to my full schedule.  I also needed a way to garden that the hot Florida sun wouldn't scorch.
I  reap on my Tower Garden from what I plant the previous SPRING!!  I bring my TOWER GARDEN indoors too and have it readily available next to our refrigerator! YAY!!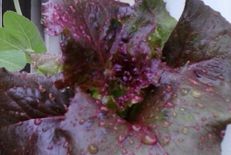 **
The HEBREW TOWER LETTER
The First Part of my Name has TWO L's or in Hebrew Two LAHMEDS.  Each Lahmed represents a TOWER for it is the tallest letter in the Hebrew AlephBet! It's ancient pictograph is of a Shepherd Staff.  The Shepherd's Staff means Teacher.  How appropriately named am I: for I enjoy TEACHING!  I teach Piano, Voice and Hebrew.  I have taught other Academics also.  Whatever I learn, as I am an avid studier in all fields, I enjoy imparting to others!
One of the areas I study is health.  Eating well is important to me.  Our bodies are grandly designed by our AWESOME CREATOR!  He equips our bodies to flourish when we take care of them and eat the food that He instructs us to eat.  So I wanted to make a way of gardening available to YOU!  My gardening ministry is called:
Living Ministries Won!        
Make sure you see my picture in the upper right corner of the page and then click on the shopping cart to browse.  Questions?    
email me:  songsofleslieann@songsofleslieann.com   
  And I can give you further contact information and answer your questions.  It is that time of year!  So, become a TOWER GARDENER WITH ME!  Take part in  LIVING MINSITRY WON!                                                             
     www.l-m1.towergarden.com
**
The Hebrew Word with a TOWER in the middle :   
SHALOM! 
שָׁלוֹם
(Notice the 'L' or 'Lahmed' in the consonantal middle of Shalom.  In Hebrew the 'sh' is actually only one letter called 'Shin';  so, the 'Lahmed' is exactly in the middle.  It towers over the other letters right from the middle of the word Shalom just like it towers over the other letters from the middle of the Hebrew AlephBet!  The 'shin' means to nourish or consume.  It's ancient pictograph is of two front teeth.  The 'm' is the Hebrew letter 'Mem' and it's ancient pictograph is of water!
So here in this beautiful word Shalom which means  
  INTEGRAL, UNBROKEN WHOLENESS!   
We have a word picture of the word
                             Shalom                           
which means: Spiritual & Physical Wholeness & Wellness coming from
1. the 'shin' - what we eat,                    
2. the 'lahmed' -what we are taught and study    
3. the 'mem' -what we drink.
HALLELUYAH!
And don't forget the Biblical Waw, or Modern Vav that makes the 'O' sound in SHALOM.  It's ancient picture is of a Tent Peg meaning to add to and it is a picture of the One Who was pierced for our transgressions: Messiah!
 It is HE WHO ADDS all this to us! 
Mashiach Y'shua Who is our SAR SHALOM:  It is HE WHO is the One Who is   1. the Living Bread,  2. the Living WORD,  3. the Living Waters!
Another shout -  HALLELUYAH!
**
And again how appropriately that there are two Lahmeds in my name that TOWER.  =)
1.  I grew up in the rolling hills, farming country in the city of Salem (SHALOM)!! in Ohio on TOWER RD!!  Tower Rd was so named because there was a COMMUNICATIONS RADIO TOWER on it and now I am a COMMUNICATOR OF SINGING, PRAYER & TEACHING ON MESSIANIC LAMB RADIO!
 and now  2. TOWER Gardens are part of my Living Ministry!
Each of us is so named to portray significances about our lives.   My prayer for you is that you know our Heavenly Father's shaLom today in both your physical & spiritual health.
 BE A LIVING SHOFAR OF BLESSING!!